THERAPY - PUBLIC ACCESS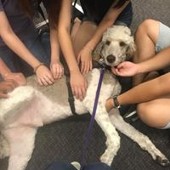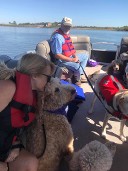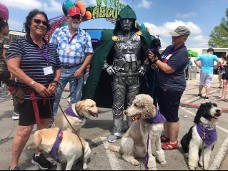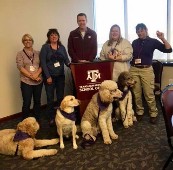 The Therapy - Public Access class is designed for the Owner who wants a dog that is comfortable, safe and predictable at all times while understanding and respecting the laws, regulations and restrictions regarding dogs in public. This is NOT a commands class; it is a trust building, desensitizing, heightened awareness, and reading/reacting to your dog's emotions course. The Field Trips are not routine and guaranteed to put you and your dog in and around new and unusual environments. In addition, you and your dog will become exposed and experienced in all aspects of therapy dog work and test requirements in order to volunteer in the community. You and your dog will be able to take the AKC Urban Canine test, any recognized AKC Therapy Dog Program organization test and/or a "Public Access" test required for service dogs.
In order to participate in this Course, dogs must be at least 1 1/2 years of age, and have already passed AKC's Canine Good Citizen and Community Canine tests. Attendance in this Course is required twice a week for six consequtive weeks. Once a week in 2nd or 3rd Grade Group Class, in addition to the weekly scheduled Field Trip. Unfortunately missed Field Trips cannot be made up. All Field Trip expenses are included: admission fees, food, etc. A Team identification badge and bandana are also included and must be worn during all attendance. Class size is limited to the first six Teams enrolled no less than one week before start date.

GROUP CLASS: $275
6 Group Field Trips & 6 Classes

PRIVATE INSTRUCTION: $675
6 Field Trips & 6 Group Classes