1ST GRADE - PUPPY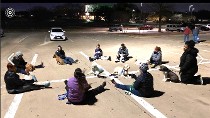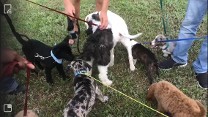 The Puppy Course is available to puppies that are 8 thru 16 weeks of age. The Domestication Period is the first and most important step in your lifelong journey together. This course will teach you how to raise your puppy correctly with proper communication not treats and clickers so you create a healthy pack structure with trust and confidence. You will learn how to create a daily schedule that works for both you and your Puppy, how to crate train for safety, quickest housebreaking method without pads, treats & bells, name recognition, follow, watch, listen, relationship recall, biting vs. teething and what to do, desensitizing to different noises, places and stranger handling, door safety, 4 on the floor, walking on a leash, and so much more! The exercises your learn will give you and your puppy positive activities to ensure your both heading in the right direction from the very beginning.
The majority of problem behaviors in dogs can be traced back to owners not knowing what to do or how to communicate and handle puppies at this critical age. Raising a Puppy is exciting and rewarding when Owners know what to do. Lisa's K-9 Kids™ has one of the most comprehensive programs in the country for family companion, therapy, obedience competition or service dog preparation.
All Kids must remain current on vaccinations per AAHA Guidelines throughout the Course. Documentation is required.
GROUP CLASS: $250 - 6 Week Course - Includes 2 Classes Per Week, Course Syllabus, Pet Owner Responsibility Bag, Training Equipment and Course Completion Ribbon.
PRIVATE INSTRUCTION: $75 Each One Hour Lesson
ONLINE PROGRAM: Click Here for 8 Week Online Program Group Classes included from 14-16 Weeks in Age.